About the Networks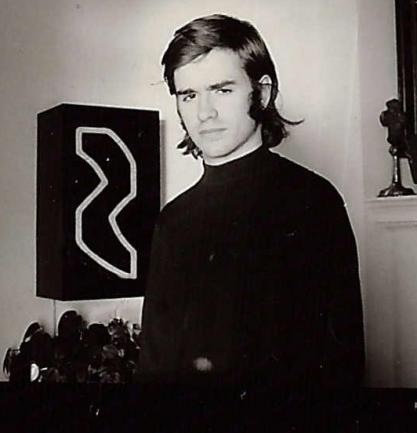 Tom Soter, before a tape session, in undated photo.
There were three "networks": Christian Doherty and Tom Soter ran ACD (with Alan Saly and Tom "Siny" Sinclair guest-starring); Siny and Tom ran BEC (with Christian guest-starring); and Alan and Christian ran NCN. Everyone was involved with Ch. 45.
ACD was the "Tiiffany" of the three networks, known for its high-quality programming. Besides the "local affiliate" Ch. 92's Day's Department store spots (a staple on all three networks), ACD ran commercials for real products – taken from a soundtrack record of award-winning commercials – and public service spots, too. It even ran edited-down (so as to be incomprehensible, except to fans), 15-minute versions of STAR TREK, PERRY MASON, and the SHERLOCK HOLMES movies with Basil Rathbone (why this was done remains a mystery). Each broadcast day ended with an Ed Sullivan-type variety show called THE CHRISTIAN DOHERTY SHOW.
If ACD was Tiffany's, BEC was Woolworth's – the place where your family would shop – and the place where you might go on your own to buy that Rat Fink ring. It also ran commercials -– locals for Day's, PSAs, and spots from the soundtrack record – but many more of them. It had its own variety series called THE HAMILTON GREENE SHOW.
NCN was the upstart network, begun as BEC was on its last legs. It had a shorter lifespan than ACD or BEC and its programming consisted of such violent shows as UP THE RIVER, THE TY PHILLIPS CORNER, and VIOLENCE IN THE STREETS.
WJAK, Ch. 45 (later WCAR) was a local, non-affiliated, and totally inept station, based on WNEW and WPIX as they were in 1968-71. It ran edited-down versions of former ACD and BEC shows, as well as supposedly syndicated and original programming. It was known for its off-the-wall editorials like the Christian DuBrane (actually, Doherty) rant against advertising on garbage cans.
Listen to:
NCN Broadcast Days