TR Profiles: Sam and Jack Rosen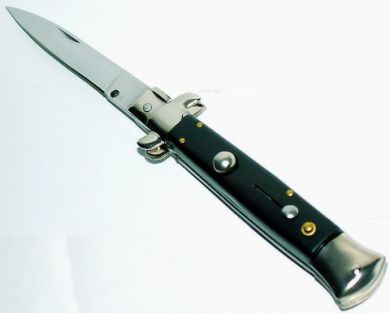 A STREET KID AT 60
By Tom Soter
Sam Rosen at 60 is not what you'd expect. No longer the fast-talking faux tough guy of the hit TR series STREET KID, he now has distinquished, if somewhat thinning, grey hair and is obviously proud of his tanned, muscular physique. He is soft-spoken, meditative, and, surprisingly, somewhat bitter at the way his life has turned out.
"I think nothing changes you las much as playing Man Sam," he says about his famous character on STREET KID. "It's a cross, a privilege, a joke, and as bloody intrusive as a nightmare."
He speaks slowly now, pointing to the trappings of his success – an Olympic-style pool, an Aston Martin sports car, a beautiful young wife (his third) named Mimi, 25 – and comments ruefully, "You wouldn't think that playing a tough guy could make such a difference, would you?"
Indeed, this is Sam Rosen at twilight, and if he is missing something, he is reluctant to admit it. But it is clear that he is incomplete, that the man who so long made up the other half of the most successful duo in TR history is unmentioned but is sorely missed.
He has not spoken to his brother Jack ("Man Jack" in STREET KID) since they exchanged heated words over their failed pasta business in the late '80s. It is a silence that he clearly would like to see broken, but, proud Italian that he is, will not take the first step.
They had had fallings-out before, of course. After STREET KID, Jack wanted to do other things, and almost refused to appear in their second series MUGGER, calling it "STREET KID redux plus Ty Phillips" (Sam "detested" working with the eccentric English actor, although he found his other co-star, Alan Saly, "a sheer delight"). In fact, MUGGER was a more high-end version of STREET KID (even using a variation of the first show's theme song), and despite Jack's role in it, the show left bad feelings between the brothers, who got their start as a novelty act Man Sam and Man Jack and their Amazing Switch-Blades. That act, in which they juggled flaming knives while exchanging patented patter, led to their appearance on NUN WHO? with Hedwig Zorb, and a contract with BEC for STREET KID.
Their career went in a joint trajectory, with Jack occasionally taking on solo spots in dramatic roles that he hoped would break what he felt was typecasting as an inept street toughie. He appeared in a much-heralded WEST THAT WASN'T episode but balked at appearing with his brother in another installment; Sam instead co-starred with Marty Phillips. The actor "detested" – his favorite word – Phillips and said as much on THE EDGAR RICE BURROUGHS DISCUSSION HOUR.
After MUGGER ended – it ran only one season, partly because Jack wouldn't do more than a year on it – Sam appeared in a dramatic role on VOYAGE TO THE STARS, which led to another falling out when all Jack could muster was a cameo as a waiter on WITCH WORLD. They reportedly split up but reunited for the bizarre detective series THE FISHBOYS, which was not a success.
"That's all history now," says Sam, who says he built "a grand mansion on the north California coast," only to have it fall into the sea with his first wife, Wendy, and their young child, Homer still inside it. "It was a freak accident," he says now, still visibly moved. "I shouldn't have kept dynamite in the basement."
His second wife, Emily, was Jack's ex-wife, and their 15-day courtship and sudden marriage turned a few heads. Some date the rift with Jack from that period. "Jack was wild about Emily," says Hedwig Zorb, a close friend of both men for years. "He never forgave Sam for seducing her away from him."
That ended unhappily, too, however, when a lighthouse she was visiting – her passion was photographing historical lighthouses – fell into the sea. "It was a freak accident," he says now, again visibly moved. "They shouldn't have stored dynamite in the basement."
Retired for some time, the conservative actor finally says a few words about his brother before abruptly ending the interview and walking off: "I miss him terribly. I wish he'd call." He pauses, and the old Man Sam accent comes back: "Woo, woo. The bastard."
THE MELLOW MUGGER
By Tom Sinclair
"I don't regret nothin'. Nothin' at all." The speaker is Jack Rosen, formerly one-half of the famed sibling duo Sam and Jack Rosen. That he professes to have no regrets is surprising. After all, Jack's battles with the dark side are a matter of public record. There were his hair-raising bouts with over-the-top substance abuse; those rumors of wildly deviant sexual behavior; and that alarming string of arrests, which culminated in 1986 when a heavily-intoxicated Jack was forcibly carried from Danny's Alley, the Italian restaurant he co-owned with Sam, after allegedly attempting to stab his brother in the eye. (Sam refused to press charges, and Jack was released after agreeing to attend anger management classes.)
But all that is behind him. Indeed, standing on the porch of his unassuming home in Liberty, New York, Rosen exudes a palpable air of contentment. Today, he lives on a small but steady stream of residuals from his old TR shows. He has been clean and sober for eight years and is paying attention to his health. "I'm a vegan now, too" he confides with a shy smile. "Not eating meat has made me a lot less feral."
Save for his greasy pompadour—piled high and dyed a rather ominous raven black—the former star of such hit TR shows as STREET KID, MUGGER, and THE FISHBOYS is all but unrecognizable. Gone is the black leather outfit he sported back in the day, replaced by an incongruously hippie-ish dashiki and shapeless white cotton pants; his trademark Cuban heeled "roach stompers" have been traded for a pair of battered tennis sneakers.
"I feel comfortable with myself for the first time in years," says Jack, staring at the glowing ash of the Camel cigarette he is smoking. "Probably for the first time since me and my brother were kids."
Details of the brothers' childhood only recently emerged with the publication of the unauthorized biography, STREET KIDS: THE RISE AND FALL OF THE ROSENS by Edwin L. Cambricke. The book tells of their hardscrabble childhood in a North Bronx housing project, where they were bullied because of their half-Jewish/half-Italian heritage; their flirtation with juvenile delinquency and the formation of their much-feared street gang, the Jackin' Jews; their eventual move into show biz, where their ability to
juggle switch-blades while cracking jokes made them a hot act on the Borscht Belt and beyond; and their fabled ascent to TR superstardom.
"We had a lot of fun doing STREET KID," admits Jack. "But after that, it was pretty much all downhill. We were just going through the motions and it really bummed me out. I attempted to deal with my depression though hedonism, which didn't work out so well."
It was after the cancellation of THE FISHBOYS that Jack's party-hearty lifestyle got really out of hand. Jack remembers weeks and months spent hanging out in New York City's Union Square Park, which, he reports, was "an open-air drug market in the '70s. All day long I'd drink Ripple and pop pills—Tuinals, Seconals, Elavils, you name it. I was a bona fide garbagehead."
Eventually, Jack wound up in treatment in Daytop Village, a "therapeutic community" of recovering addicts where he lived for two years. He credits Daytop with saving his life. By the mid-'80s, he had reached a fragile accord with his estranged brother, and they opened Danny's Alley. However, Jack began drinking again, and there were bitter quarrels over management issues. "Sam wanted the waiters to put on a big show, cutting the pizzas with switchblades," he says. "Sam also came up with the slogan, `Pizza so good you'd jack your mother for a slice,' which I thought was just stupid." He pauses. "But enough about that. I don't want to badmouth my brother."
It's well known that the two brothers haven't spoken for many years because of what Jack terms "issues." Today, Jack steadfastly refuses to answer any questions about the late Emily Rosen, the femme fatale who famously married Sam after divorcing Jack. "Love is a many splendored thing," says Jack. "It's also a many-tentacled demon. That's all I'm gonna say on that."
These days, Jack maintains he enjoys his solitude. He believes he will reunite with his brother someday but that "the time just isn't right at the moment." When he is reminded that some people are willing to pay big money to see a Rosen brothers reunion, he smiles sardonically.
"Why, what I need with money?" he asks with a grin. "If I need money, I just jack somebody for it." With lightning speed, he whips a lethal-looking switchblade from his hip pocket and holds it to this reporter's throat. "Like this."
And with that, the interview—if not a life—is at an end.
(Editor's note: Any resemblance to anyone living or dead is purely coincidental.)
Listen to:
Street Kid
Taped: 1970
Sam and Jack have a run-in with Danny. Sam: Sam Rosen. Jack: Jack Rosen.
Mugger: The Muggers Meet Pompulus and Mr. Daggs
Episode 1. Taped: October 10, 1970
In an updating of their characters from the hit series Street Kid, Sam and Jack Rosen play muggers Moby and Humble Smith, who get thrown into an uneasy partnership with a retired thief (Ty Phillips) and his British manservant Daggs (Alan Saly).
The Fishboys: Who Is Mr. Garcia?
Episode 1. Taped: August 6, 1971.
Sam and Jack Rosen, who were on the wrong side of the law in their two previous series, go straight in this new comic mystery series about two brothers who run a detective agency. First up: when a man dies on their doorstep, the Fishboy brothers have only one clue: his dying words were "It was Garcia..ahhh."
Edgar Rice Burroughs Discussion Hour: Another Show Wasted
Episode 4. Taped: August 24, 1970
Guest host Tom Sinclair welcomes guests Marty Phillips, Hedwig Zorb, and Sam and Jack Rosen.
Voyage to the Stars: The Jungles of Regulus
Episode 5. Taped: March 29, 1971
In a rare dramatic role, Sam Rosen plays Carl Harper, a weapons expert, who teams up with Jake Bush to deal with a strange growth that is threatening the existence of the starship. Bush: Alan Saly.