Made-for-TR Movies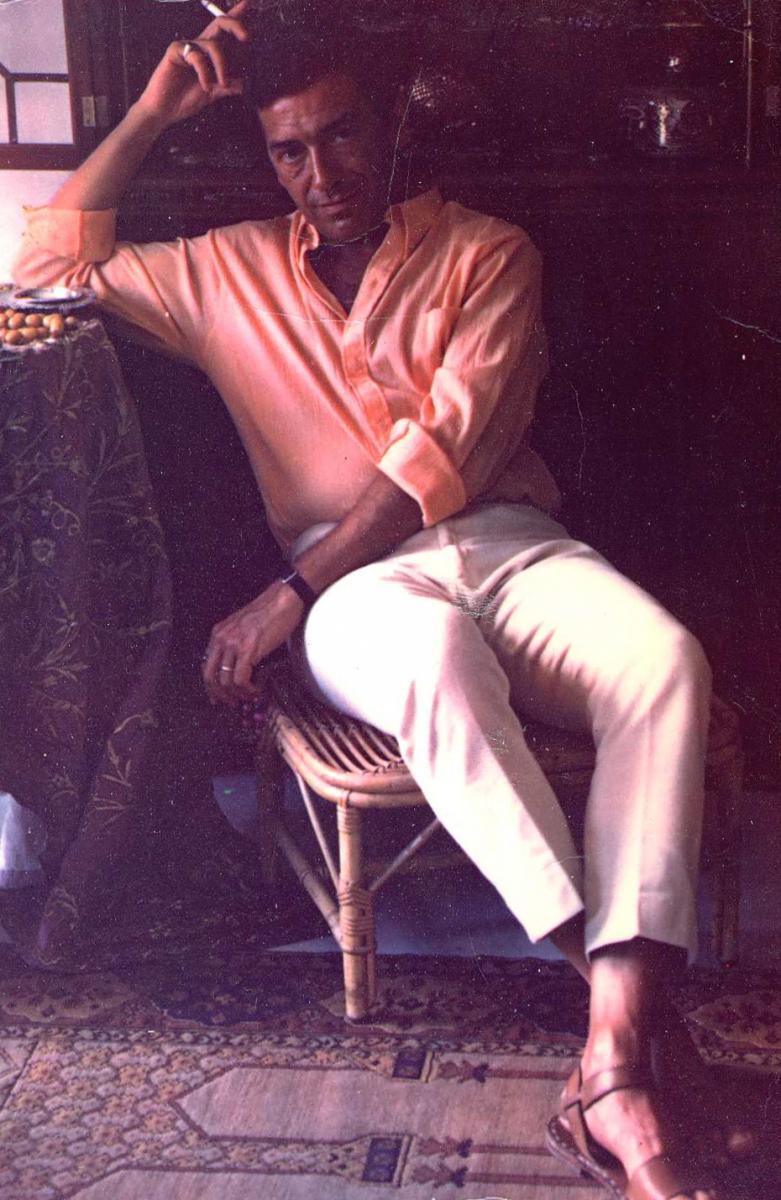 OF ONE-SHOTS AND LETHAL CAMERAS
By Tom Soter

Lethal Cameras: TR Movie Star George Soter in 1968, when he recorded THE LETHAL CAMERA.
Like the television networks that they imitated, our three TR networks produced a string of "made-for-TR" movies (though the word "movie" seems to be a misnomer, since there was no picture that moved, just the frenetic voices of the actors). These were usually double-length epics, giving us 30 minutes, rather than 15, to make matters more (in)comprehensible.
Of these, a few stand out. RED IN THE STARS was Christian Doherty's action-packed homage (to put it kindly) to THE PRISONER TV series, in which astronaut John Phillips finds himself lost in the stars (or, as Christian's title so aptly put it, considering the amount of killing there was, red in the stars). Unlike some of the other shows, this one actually had a script, of sorts: we read (and improvised off of) Christian's original short story, "Red in the Stars." (The sequence with the "stair vehicle coming towards me" is classic Doherty: crazy narration by the character of the events going on around him combined with his own frantic sound effects)
We apparently enjoyed the character of John Phillips so much that we brought him back in a sequel, this one based on two Doherty stories, called THE SKY'S THE LIMIT. It was made in 1975, when our interest in TR shows was waning, and I believe it was among the last things we taped. It's a bit of a mess, which is probably why we never finished it. It sadly ends abruptly.
There were also movies involving series characters (detective Jason Rogers teamed up with spy Henry Sorelli – both played by Doherty – in GUN FOR ROGERS; Henry went it alone in WISHING YOU WERE DEAD); titles we liked (THEM – no relation to the big bug movie, about alien invaders); and real people (WPIX kiddie show host Joe Bolton was skewered in JOE BOLTON, DRUNK and THE DRUNK GOES TO HOLLYWOOD, both with Tom Sinclair as Joe; and nun Hedwig Zorb – already a regular on PLANET OF THE NUNS – was featured in a biopic called THE ZORB CURSE).
Sometimes, the movies acted as inspiration in other creative areas. One of our earliest efforts, THE STRANGE CASE OF THE HYPNOTIZED MEN, with Tom ("Siny") Sinclair, Robert Smith, and me, featured three New York City police detectives tracking down a supernatural killer (at least I think that's what it's about). In it, Siny played a character called Jason Rogers. Siny must have liked the name. The following year, he used it in a short story called "The Night Painter," which became the basis for a TR series (JASON ROGERS) and a trio of movies we made (JASON ROGERS, THIS WILL REALLY KILL YOU, and MAkE A WISH). Talk about milking an idea (or in this case, a name)!
Another time, a movie was the result of a party game. One of the earliest productions extant – in which I was the only one involved from the creative quartet (that included Siny, Doherty, and Alan Saly) – is THE LETHAL CAMERA (1968). It features detective Sam Pappas investigating the strange deaths of Gloria Glow and Henrietta Cosindas, who are murdered one stormy night while taking pictures in the tennis court. The plot, which involved "minature bullets," was not one of our teenage rambles. It was concocted by, of all people, my father, George Soter.
One night, when we had some guests over, my dad thought it would be fun to stage a murder mystery, with all the real-life guests as suspects. The gimmick to the game was that everyone was kept in the dark as to the plot, so that when my father – as Inspector Pappas – queried them, they often had no clue as to what he was talking about. But they were good sports and didn't let on, although it did make for some confusing moments (my mother, playing Mrs. Frisbee, relates the actual events of a past weekend when we saw some "seagulls and eggs," which brings my father's rejoinder, "I wanted the events of this weekend, not some weekend in Chekhov"). I don't think I'll spoil anything by saying that the butler did it. Of course.
Listen to:
The Lethal Camera
The Ch. 92 Movie Taped: 1968
Inspector Pappas (George Soter) investigates the double murder of movie star Gloria Glow and photographer Henrietta Cosindas, who died mysteriously during a photo shoot on a rainy tennis court. Mrs. Frisbee: Effie Soter. Gloria: Carol Gardiner.
The Christmas Theft at Frisbee Manor
Taped: 1983
In this sequel to The Lethal Camera, Inspector Pappas returns to Frisbee Manor after 15 years to investigate the theft of a fabulous brooch. Pappas: George Soter. Grand Duchess: Maria Hart.
Red in the Stars
Taped: September 8, 1971
The year: 1999. Astronauts John Phillips and Davey Evan, on a mission to Mars, crash land on a strange planet where things are not what they seem. Based on the story by Christian Doherty. Taped at the Grand Canyon Studios in Oceanville, Nevada. Phillips: Chet Doherty. Evan: Tom Sinclair.
Sky's The Limit, Part 1
Part 2
Taped: March 22, 1975
The sequel to Red in the Stars finds John Phillips (Christian Doherty) again on the run, this time in a tale of violence, intrigue, and murder. Based on "The Sky's the Limit" and "Trigger Happy," by Christian Doherty. Emily: Howard Hudson Hughes.
M for Mystery
The Ch. 92 Movie Taped: 1968
Two detectives (Tom Soter, Robert Smith) search the city for a crazed assassin.
The Strange Case of the Hypnotized Men
The Ch. 92 Movie Taped: 1968
Three detectives (Tom Soter, Robert Smith, Tom Sinclair) search the city for what seems to be a supernatural killer called Death. This movie introduces the detective Jason Rogers.
Joe Bolton, Drunk
Taped: 1969
The highly fictionalized life of Joe Bolton, WPIX correspondent. Joe (as a boy): Errol Flynn.
The Drunk Goes to Hollywood
Taped: 1969
Who ever thought that Joe, the Drunk, would go to Hollywood? Certainly not Joe! Drunk: Joe Bolton.